Skip to Main Content
It looks like you're using Internet Explorer 11 or older. This website works best with modern browsers such as the latest versions of Chrome, Firefox, Safari, and Edge. If you continue with this browser, you may see unexpected results.
Faculty of Science and Technology (FoST) students using Australian Harvard style should use EndNote Desktop as this style is not available in EndNote Web.
EndNote Web - easy and online!
Postgraduates and staff might want to consider EndNote (desktop) instead
What is EndNote?
EndNote is a reference management system
What does that mean? EndNote Web enables you to:
grab references from Library QuickSearch, journal databases, library catalogues, and other sources
use EndNote to insert a formatted reference list into your own documents
organise and manage your references (re-use a textbook reference, for example)
find references using one computer, insert your reference list later on another computer
Click on the Sign up link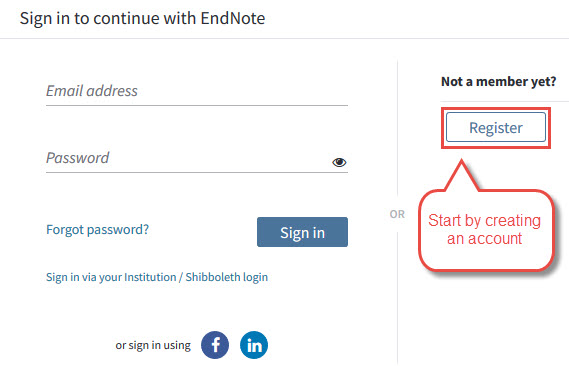 When you create an account, you can use your Federation University email account.
Alternatively, you may wish to use a personal email account to simplify access to your references after graduating.
Don't worry, you don't have to decide immediately, you can always change your email address later in the settings
What's in a name?
EndNote Web is also known as EndNote Basic and EndNote Online - it has changed names a few times in its development.
EndNote classes and tutorials