Federation has the print book but:
it's on loan
or
it's on another campus
or
you are not an on-campus student
Find the book on QuickSearch.
Click on the book title in the result list to reveal the full record.
In the full record, click on the Location area (there may be one or more libraries listed here).
This will take you to the (older) catalogue interface.
From there, click on the Request button.
Login with your usual Federation username and password, and click the Submit button.
Choose a campus (or partner institute) where the book will be delivered (at the library) for you to pick up. If you are an eligible online and flexible study student, you can choose Eligible postal delivery to have the book posted to you, but note that you are responsible fo returning the book, by post or at a Federation library.
Please specify a date after which you no longer want the book (if, for example, many other students already have a hold on the same book).
Click the Submit button.
You will get an acknowledgement message that your request has been successful.
When your requested item has arrived, you will be notified by email (to your Federation email address)..
You will have several days to pick it up before it is returned, but picking it up early is recommended.
---
Federation doesn't have the book, and you're a staff member or researcher (Federation University Australia postgraduate courses included).
Click on the Document Delivery link on the Library home page
Click on the patron record link
Login with your Federation username and password
Click the New Request button.
Choose the type of document you are requesting (a book, journal article, conference paper, etc).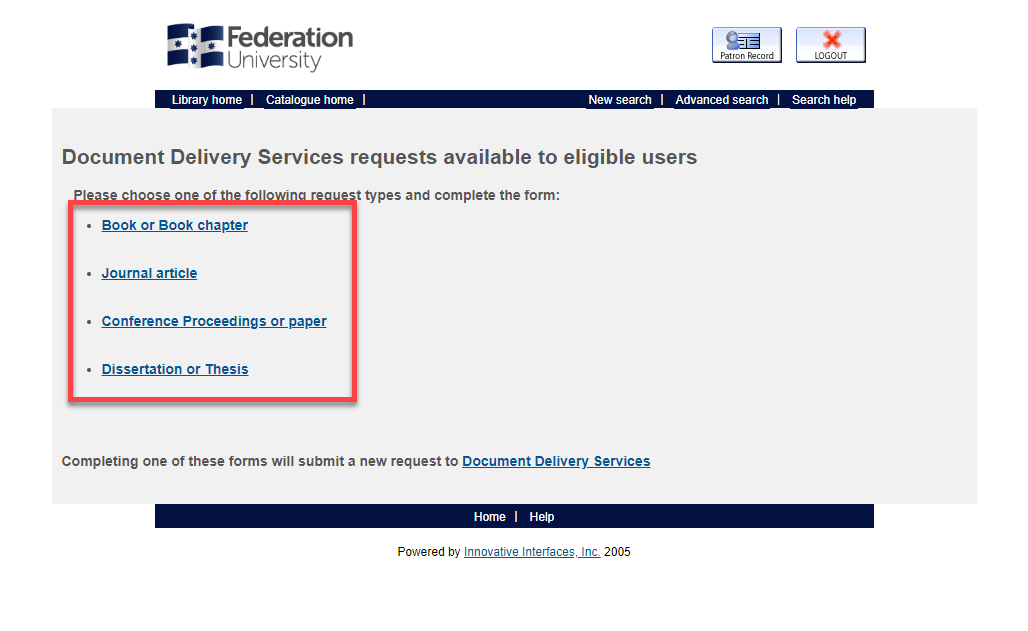 Fill in all fields for which you have information. The more information you can provide the easier the document will be to find, and the more likely it will be the correct document.
Click the Submit This Request button